Branding 101 For Entrepreneurs - Start With Logo And Walk Out With A Brand
Ling Zhang
734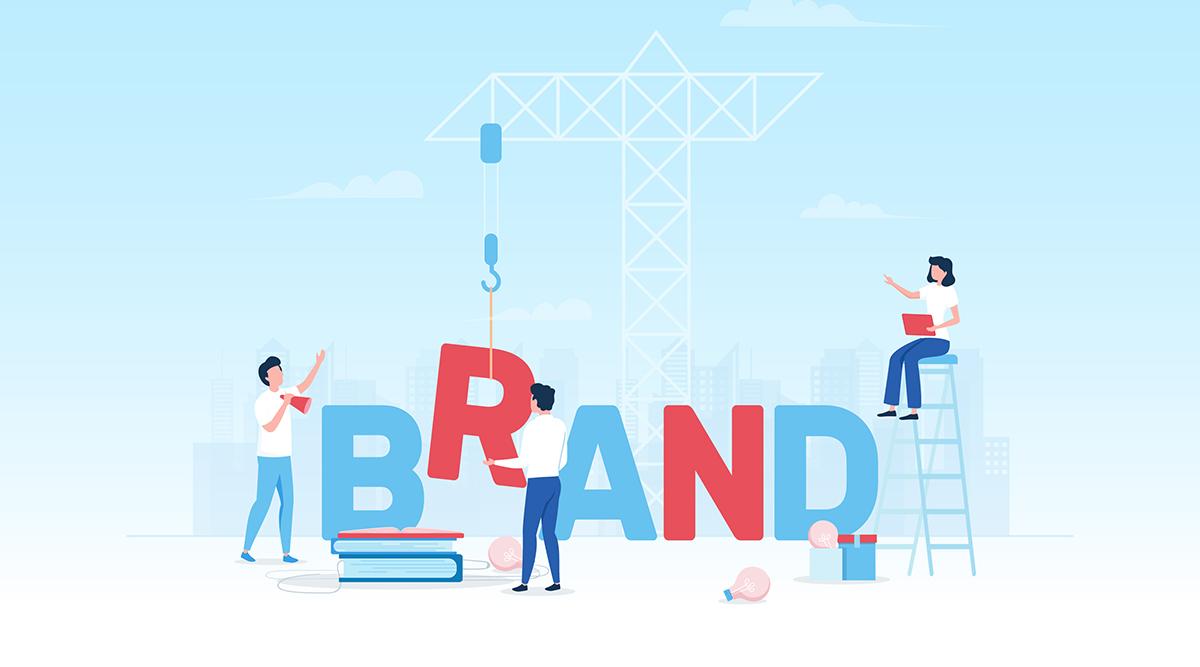 Every ambitious entrepreneur with grand aspirations of launching their own business encounters a common challenge: how to craft a captivating and distinctive brand for their venture. However, for those lacking design expertise and working with limited funds that can't stretch to hire a professional designer. This is where uBrand steps in as a savior for small business owners. With uBrand, all it takes is a few clicks and voila – AI technology will generate a professional, striking logo and brand that captures the essence of your business. 
In this article, we're going to walk you through the journey of starting with just a basic logo and ending up with a full-blown, unforgettable brand, using a burger shop as our illustrative example throughout. Let's get into it!


Start With Business Logo
The initial step in branding is to create a logo, a well-designed logo acts as the cornerstone of your branding, laying the foundation for all subsequent branding efforts and communications.


Upload Your Existing Logo
If you already have a logo, simply upload it. We'll create a monochrome version for your logo, which can be useful for different branding needs. It's a quick and easy step to get started with enhancing your brand.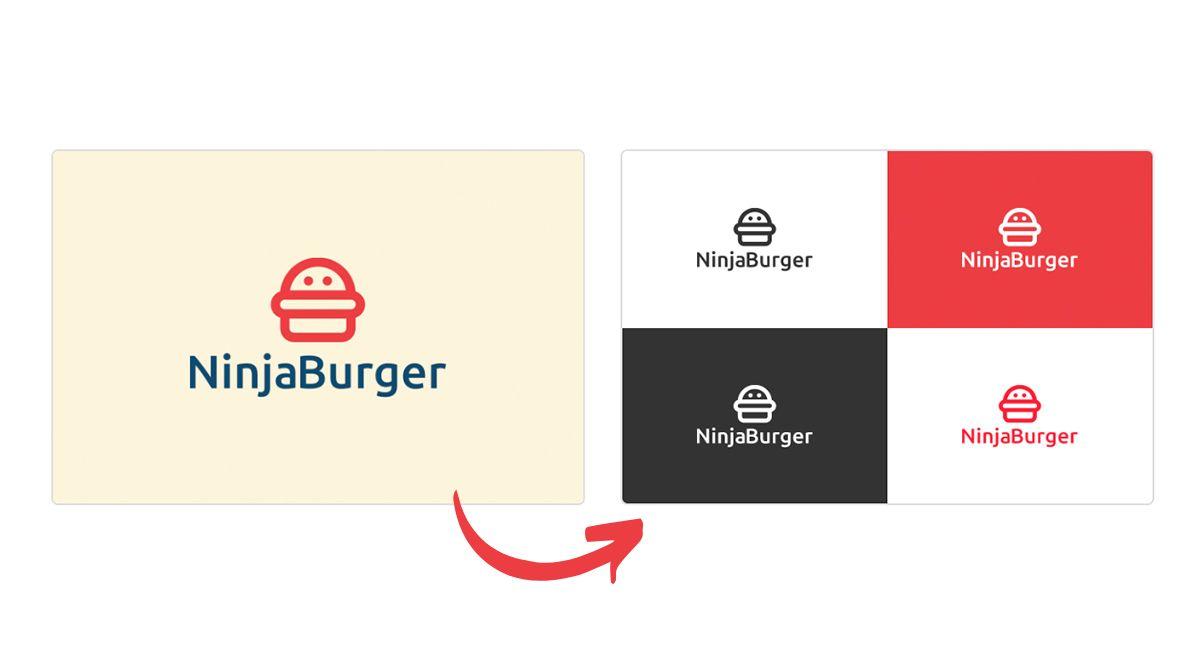 Al-Powered Logo Maker
Creating a new logo is a breeze with uBrand's Logo Maker. First, type in your brand name and maybe add a slogan if you have one. Next, pick your preferred font and colors. Our AI will then show you some designs based on your choices. See one you like? Hit 'edit' to tweak symbols, fonts, or colors until it feels right for your brand. Once you're satisfied, you can buy and download it right from uBrand's Logo Download Center.
Setup Your Brand Guideline
Now that you has a logo for your Ninja Burger, the next step is to generate a brand guideline. Brand guidelines serve as a reference for the overall look and tone of a brand, ensuring consistency across all marketing materials. With the help of uBrand, creating these guidelines becomes an easy and straightforward process.
AI-Assisted Brand Story
In addition to ensure a cohesive brand identity by choosing a primary color, harmonious patterns, a representative font, and sourcing consistent imagery through our keyword searches. Our AI-powered tools make it easy to define your brand's unique position. Start by pinpointing your mission - what problems you solve and the value you bring to customers. Then, envision the larger impact you want your brand to have. Establish your core brand values to guide your brand's actions. Our AI helps you create a clear and relatable brand positioning that sets a strong foundation for your brand's growth.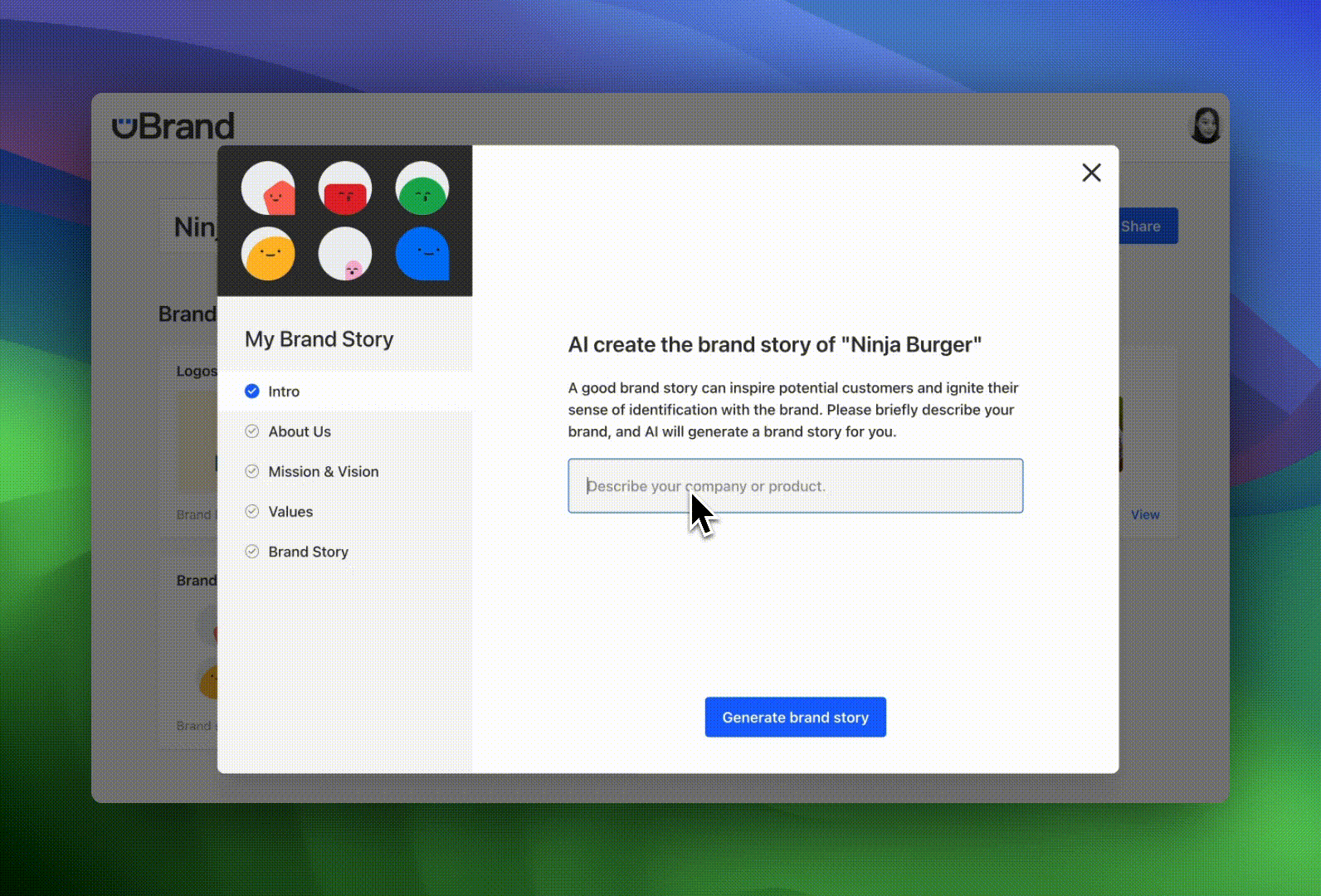 Generate Your Brand Guideline
uBrand will help you craft an exclusive brand manual for consistent marketing. Plus, with uBrand, weaving a compelling brand story that resonates with your audience and fosters growth is effortless.,With uBrand, crafting a cohesive and compelling brand story that fosters growth has never been easier.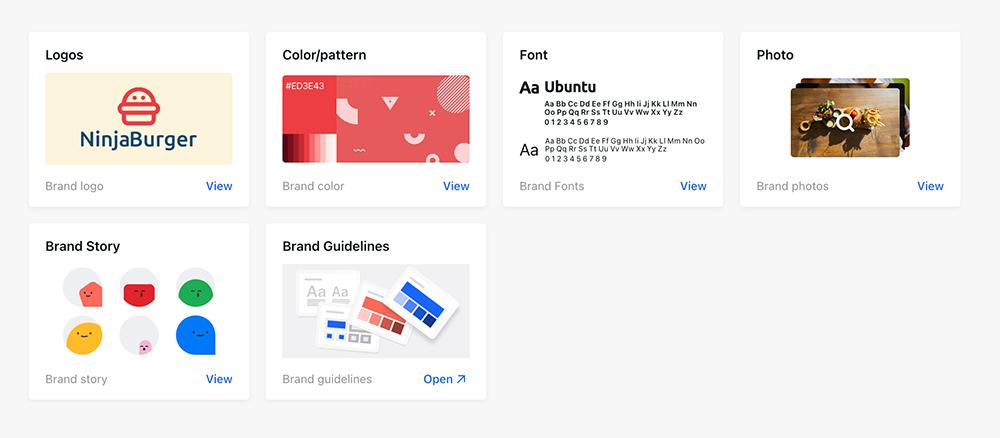 Automate Your Brand Design
Now that you have a complete brand guideline, it's easy to apply it consistently across various platforms and marketing materials. uBrand allows you to effortlessly design a comprehensive brand kit, which includes a wide array of brand designs, from company business cards and branded posters to advertising materials and social media content.
Creating content for marketing is a breeze. Simply customize pre-designed templates with your Ninja Burger branding.


Matching Business Cards
More than 20 professional business card designs are automatically generated based on your brand colors and patterns. Click the edit and download button, you can easily modify the business card information and color design details. One-click download perfect branded business cards.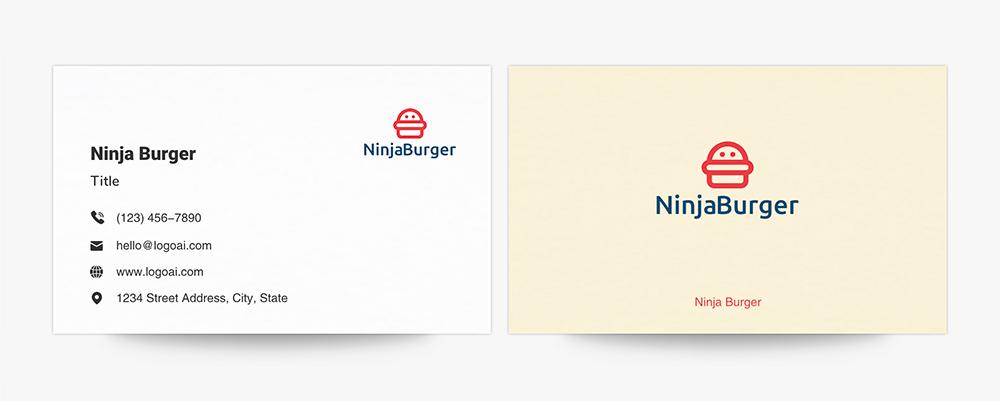 Brand Mockups
uBrand elevates your branding efforts by crafting realistic logo mockups across a range of popular mediums. Whether you envision your logo on mugs, T-shirts, towering billboards, or integrated into sophisticated corporate VI effects, we've got you covered. These mockups not only give you a tangible glimpse of your brand in real-world applications but also enhance its professional appeal.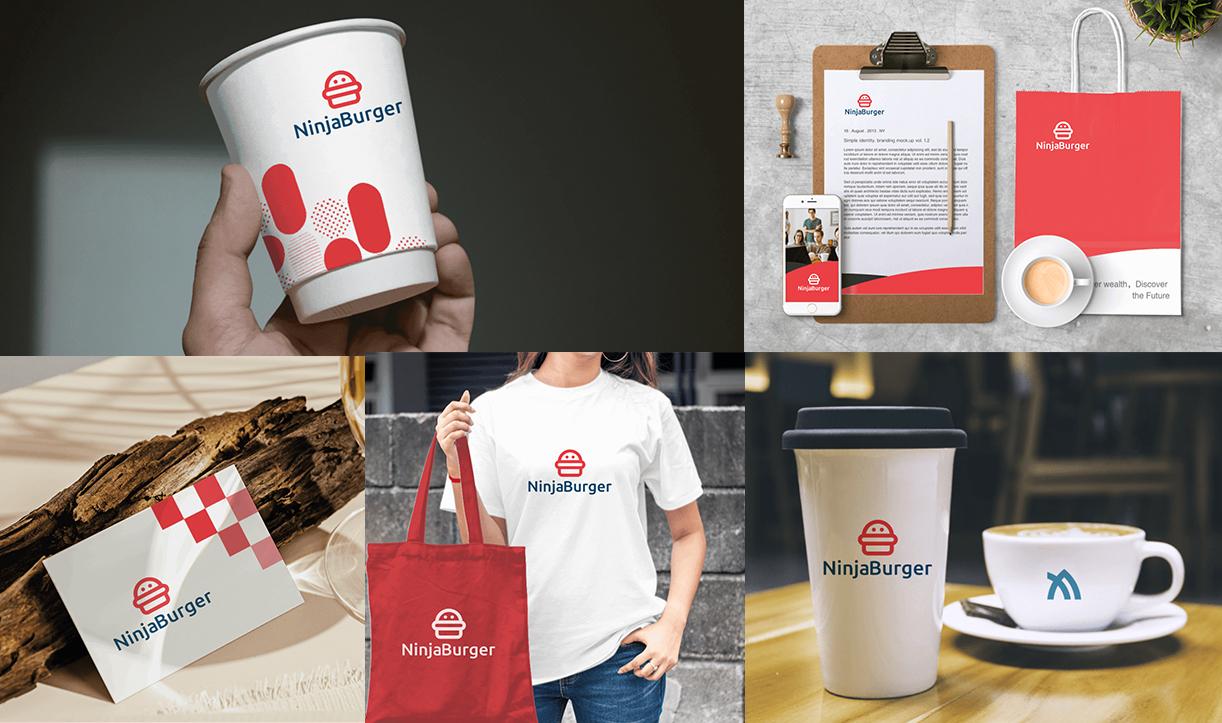 Social Media Designs
For platforms from Facebook, Instagram to Twitter and LinkedIn, uBrand offers a suite of customizable design templates tailored for your brand's social media presence. Edit effortlessly online and download in a single click, enabling swift and effective brand promotion across your social channels. With our user-friendly online editing tools, you can tweak these designs to perfection and then download them with a single click. This streamlined process empowers you to promote your brand consistently and effectively across all your preferred social channels, ensuring you capture and engage your target audience.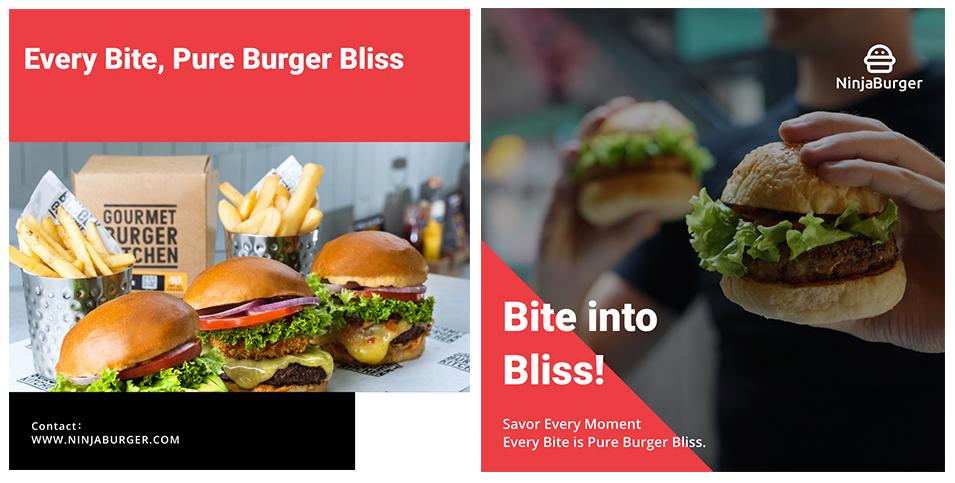 Brand Posters
uBrand doesn't just offer standard recruitment, advertising, and promotional posters. We dive deeper, curating personalized poster campaigns and banner ads aligned with your brand. By keeping a keen eye on current trends and the marketing calendar, we ensure your promotions stay relevant and timely. With our dedicated designs, your brand won't just be visible; it will resonate powerfully, capturing attention in a crowded marketplace.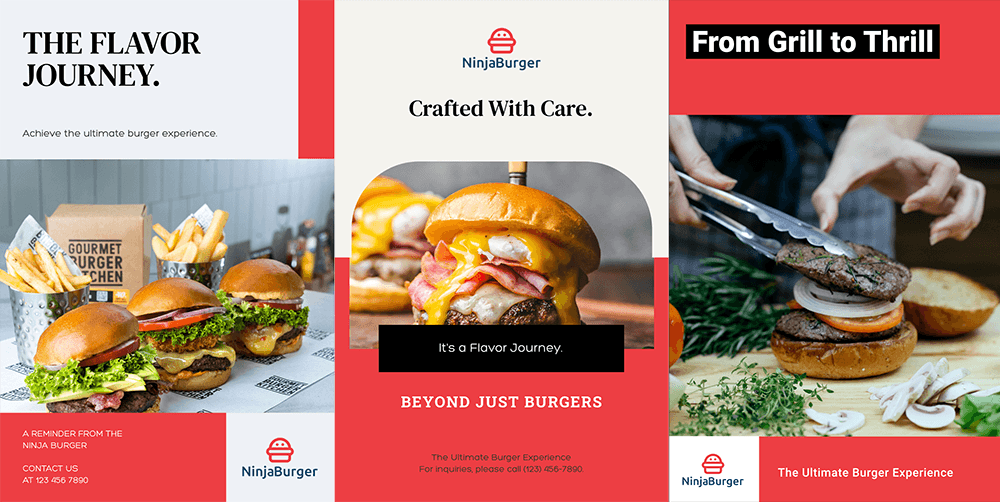 Manage Your Brand Assets
Brand marketing is all about having your assets at your fingertips when you need them. That's why we've developed a special brand asset manager just for "Ninja Burger." It's your brand's digital home. Say goodbye to the stress of not being able to find the brand resources you need. They're all right here, ready and waiting whenever you need them.
At Brand Asset Management (BAM) , we've made it easy to upload and organize all your branding essentials. Feel free to add custom tags, ensuring each asset falls right into its perfect category. Whether you're dealing with: different logo files, brand images, mockup and posters, brand design templates, PPT, Fonts ... We've got a spot for everything. Your brand management, simplified.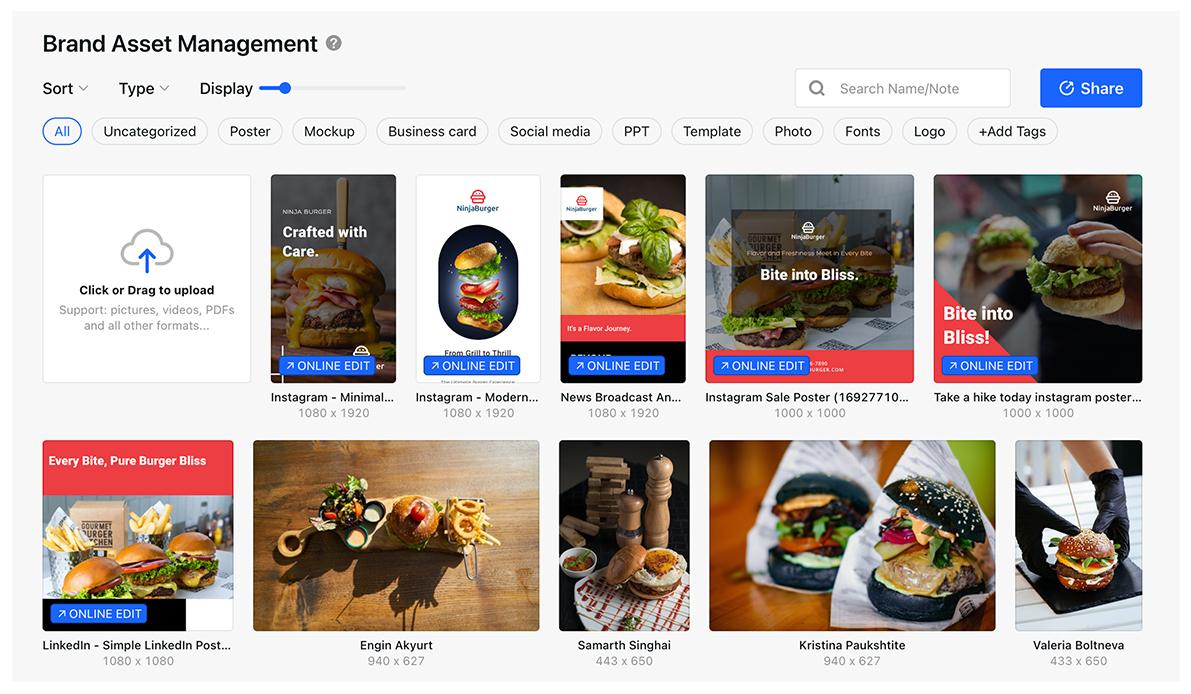 Start With Logo, Walk Out With a Brand
With uBrand's easy-to-use platform, anyone can quickly create a striking logo, establish a consistent brand guideline, and even generate promotional materials for all platforms. It doesn't stop there - uBrand also offers a brand asset manager, acting as a one-stop-shop for all of your brand assets, ensuring you always has what you need at your fingertips. 
As you moves forward with your dream of opening a new business, uBrand takes the stress out of branding, transform a basic logo into a memorable brand, allowing you to devote more time to what you truly love - running the business. For entrepreneurs looking for a simple and efficient way to brand their business, uBrand is the way to go!