How To Generate A Simple Brand Guideline From Your Logo?
Ling Zhang
769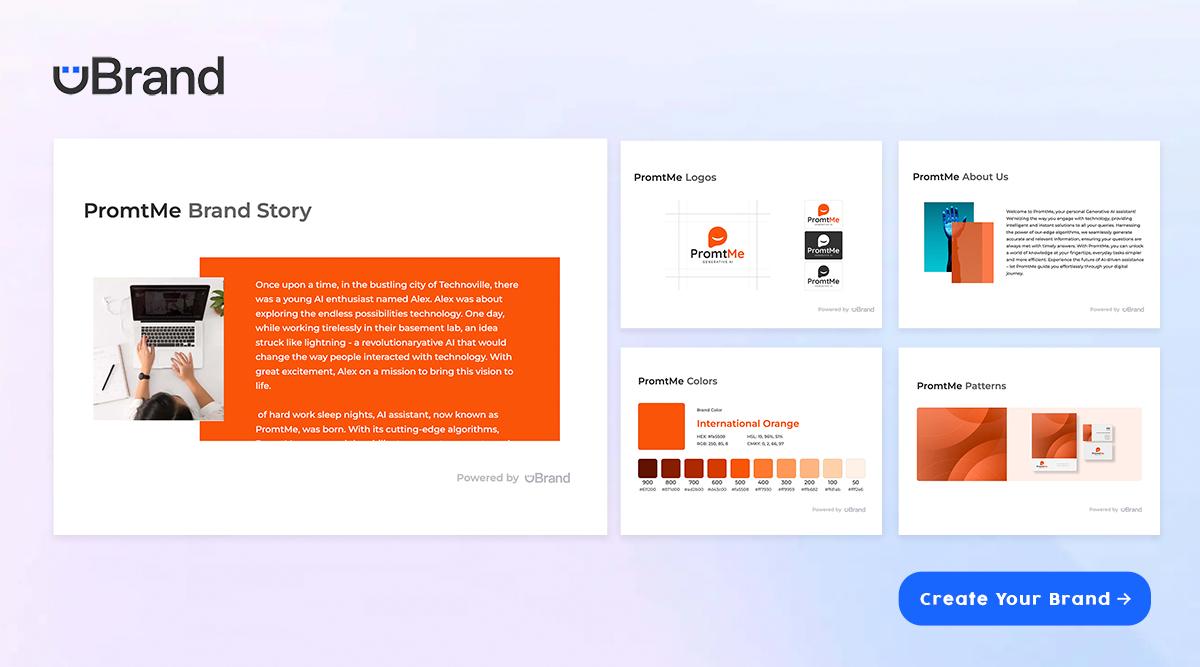 When you think of Apple, you might picture sleek designs and innovative technology. For Nike, it might be athletic excellence and their "Just Do It" slogan. These brands have achieved a consistent image and message that people instantly recognize, no matter where they encounter it. By adhering to these guidelines, businesses ensure consistency. This consistency then builds trust and recognition with consumers, making the brand more impactful in its interactions.
In this article, we will show you how to generate a simple brand guideline from just your logo.


What Is A Brand Guideline?
Brand guidelines, define the overall appearance and voice of your brand. They act like a playbook, ensuring your brand remains consistent and recognizable across all platforms. Creating a brand guideline is essential for establishing and maintaining a cohesive and consistent brand presence.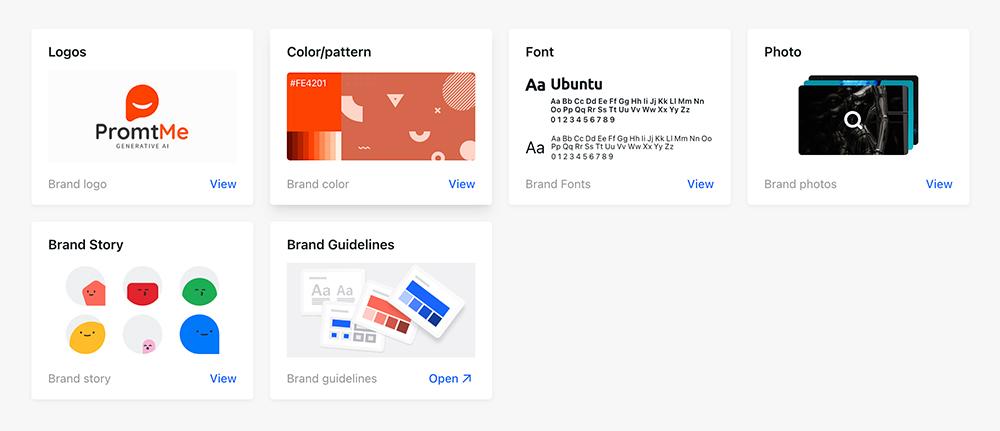 Essentially, a brand guideline consists of two key components: Brand Visuals and Brand Copywriting. Brand Visuals encompass elements like your logo, color palettes, patterns, fonts, typography, and photographs. These visual assets work together to form a cohesive and recognizable brand identity. On the other hand, Brand Copywriting focuses on articulating your brand's mission, vision, and statement, as well as crafting a compelling brand story. This written content helps people understand the essence and values of your brand.


Generate Brand Guideline with AI
Starting a business comes with its fair share of challenges, especially if you're not design-savvy or don't have the budget for a full-blown design agency. That's where uBrand steps in. uBrand will help you create a consistent visual identity, refine your brand mission, and automatically generate your brand guideline.
Up next, I'll guide you through the process of using uBrand to create your personalized online brand manual, starting with the logo image below👇!
Upload Your Brand Logo
Enter the Brand Guideline Generation interface, click "Generate Now". When generating your brand guideline, start by inputting your company name to creating your brand. Regardless of the format of the logo you upload, uBrand will automatically convert it into a vector and generate a monochrome version for more versatile usage.

If you don't have a logo, don't worry! With uBrand's AI logo generator, simply input your brand name and get a variety of creative, personalized logo designs in just a few steps—perfect for sparking design inspiration.
Pick Your Colors & Patterns
Select a primary brand color and any secondary patterns. Based on these choices, uBrand will craft a cohesive visual identity that complements your logo.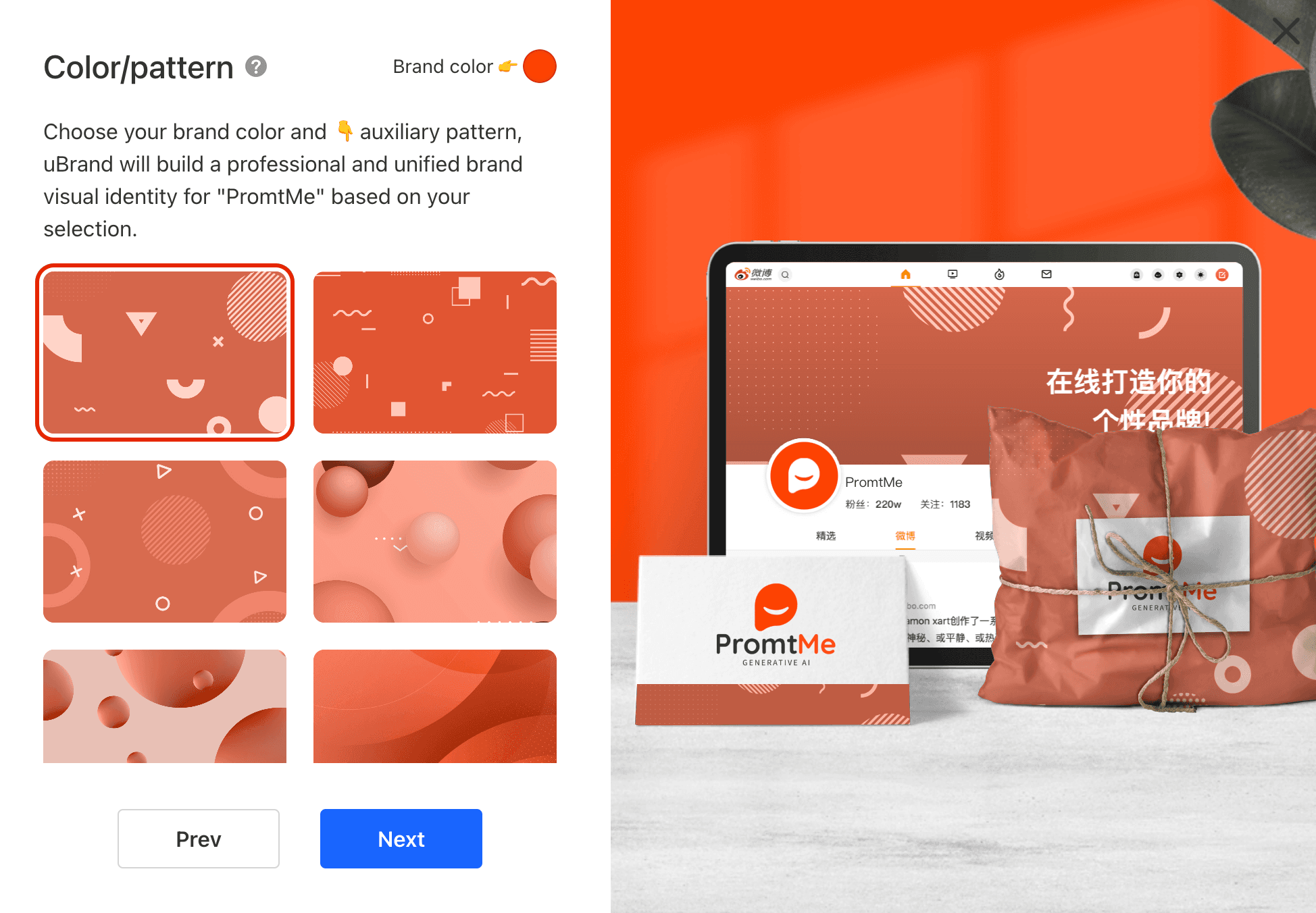 Brand Font Selection
You'll find a range of fonts. Pick one that resonates with your brand, or if you have a specific one in mind, go ahead and upload it.
Brand Photo Selection
Using keywords, search and select images that align with your brand's vibe and messaging.
AI-Powered Brand Creation
Describe your company or product, and uBrand will use AI to craft a brand story for you. Feel free to tweak it to your liking.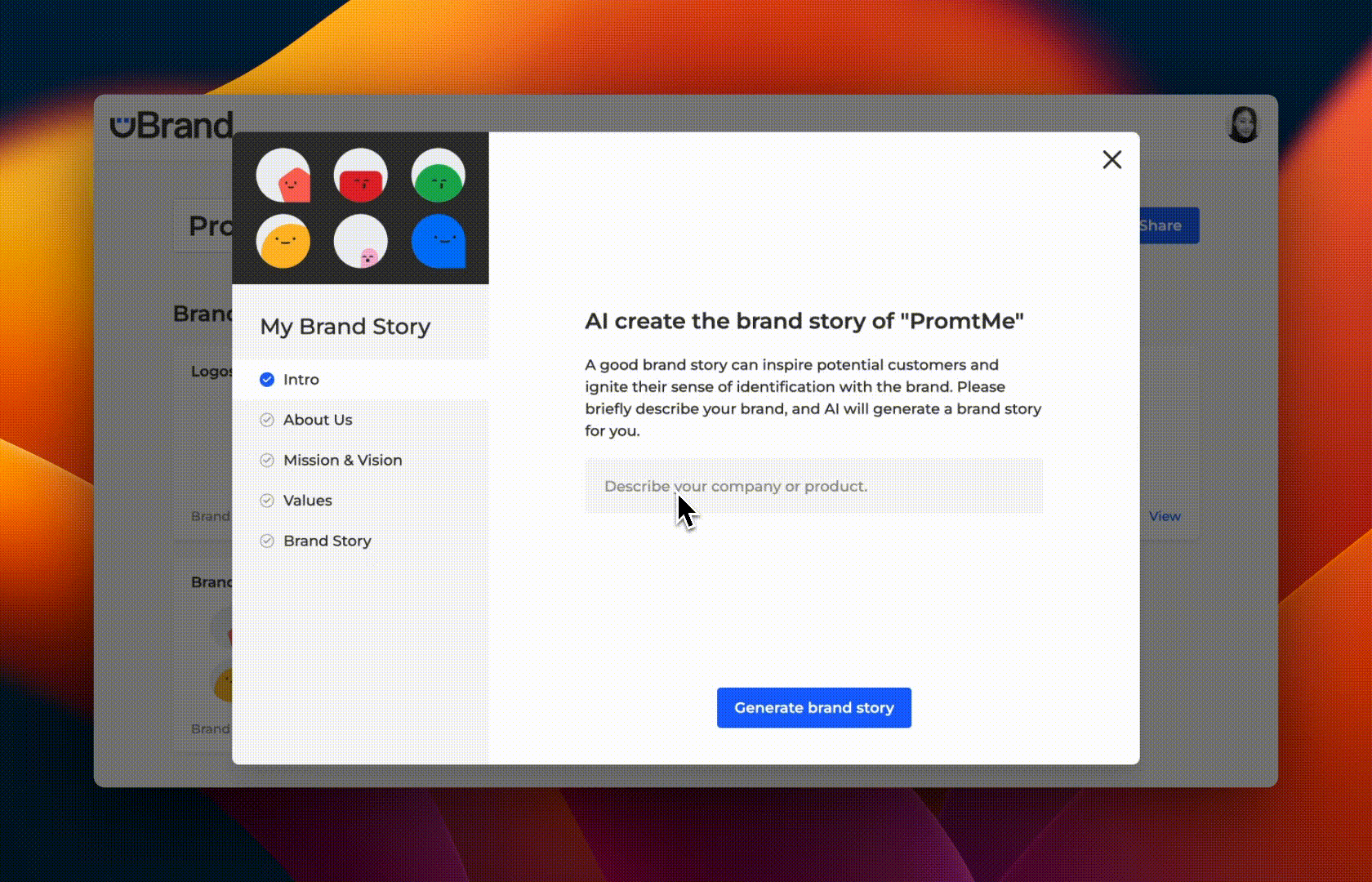 Download Brand Guideline (PDF)
Once completed, you'll receive a polished, professional brand guideline that you can edit at any time. Whether it's changing your logo, adjusting font colors, or updating your brand story, uBrand will automatically refresh your brand guideline after each modification.
Click to View the Complete "PromtMe" Brand Guideline👇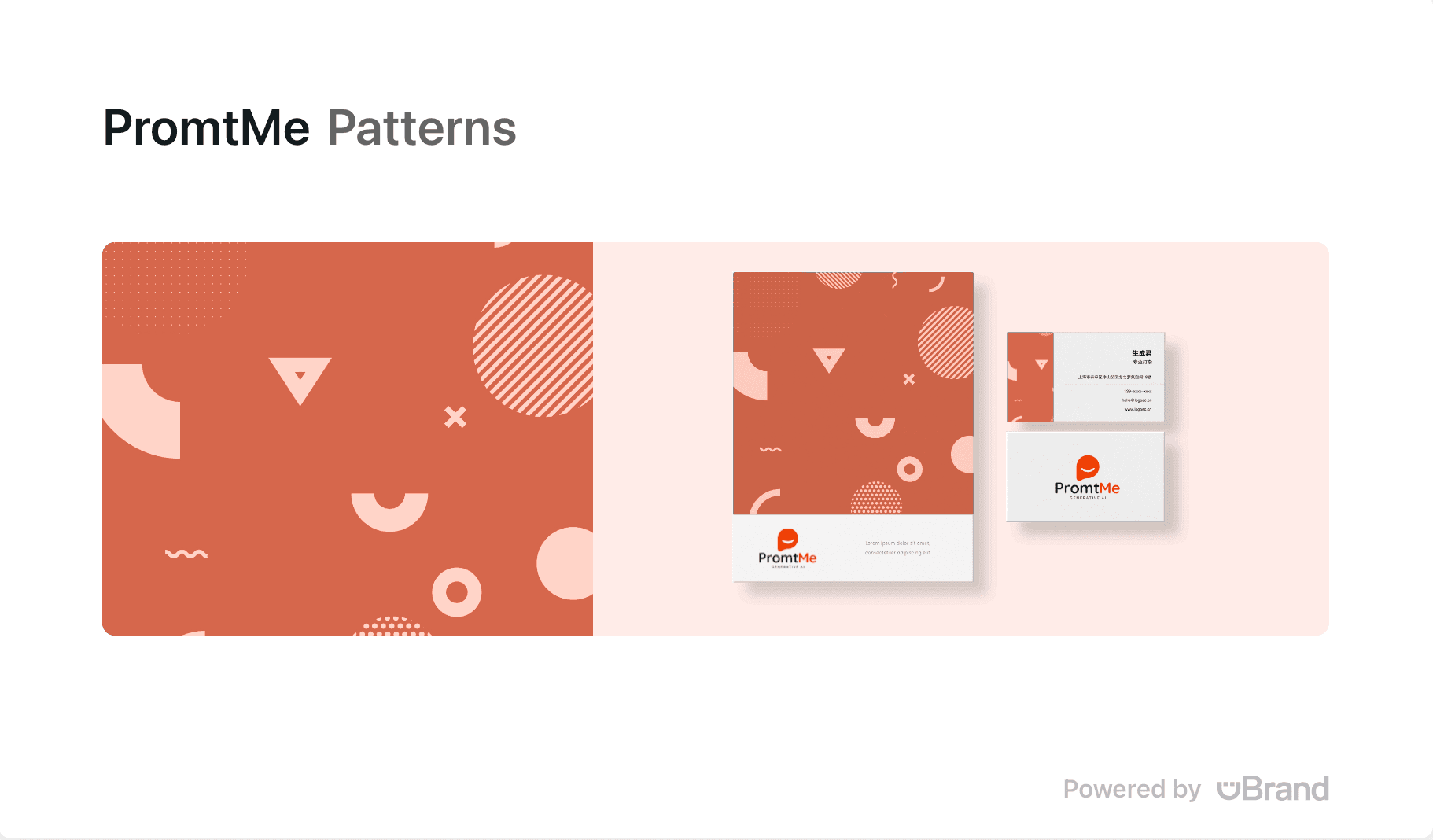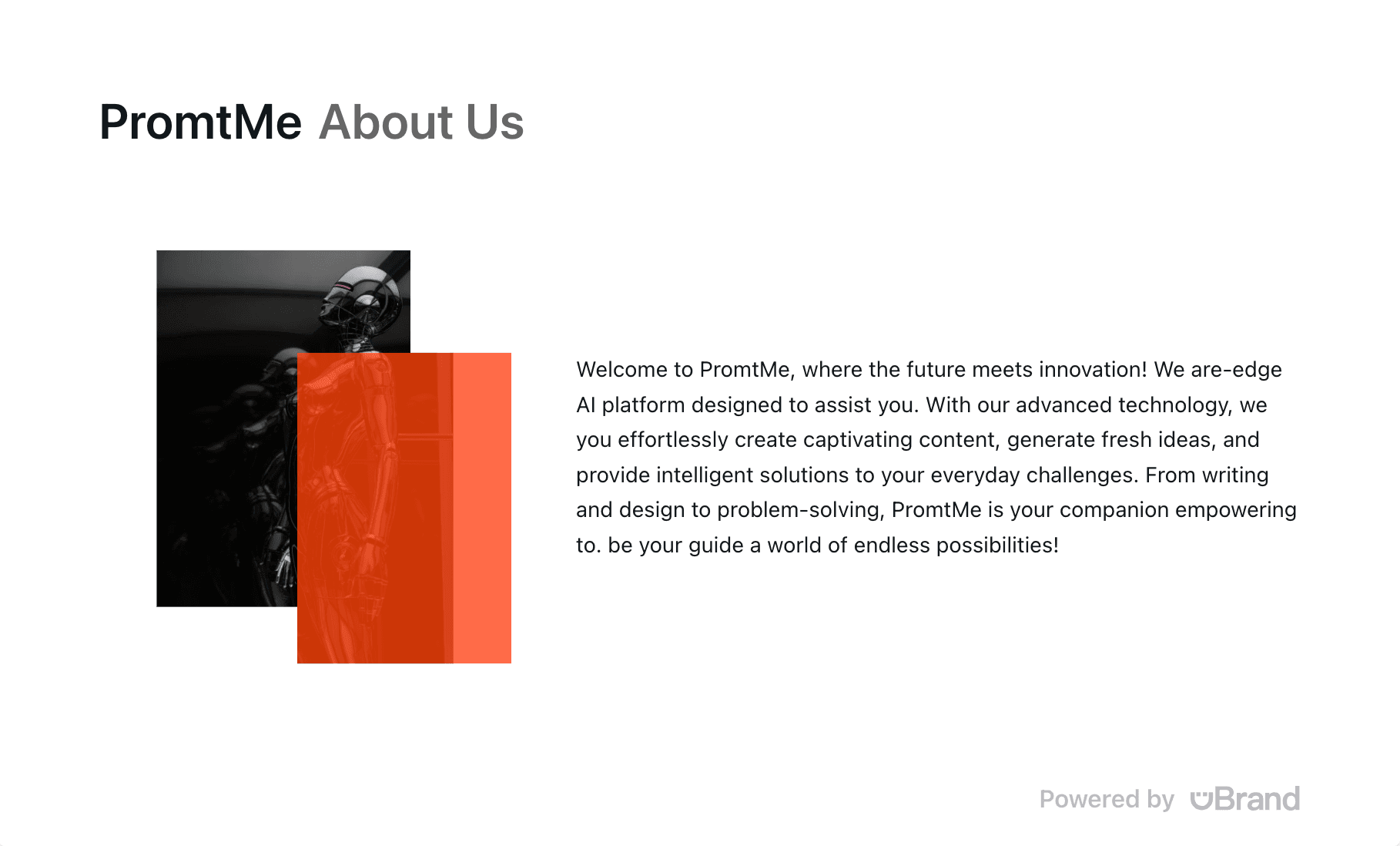 Share Brand Guideline Online
With uBrand, updating your brand manual is a breeze—no need to download a new PDF every time you make a change. Just hit the "Share" button on the right to send a real-time, always-updated link to your team or buddies. Easy as pie, and it keeps everyone on the same page.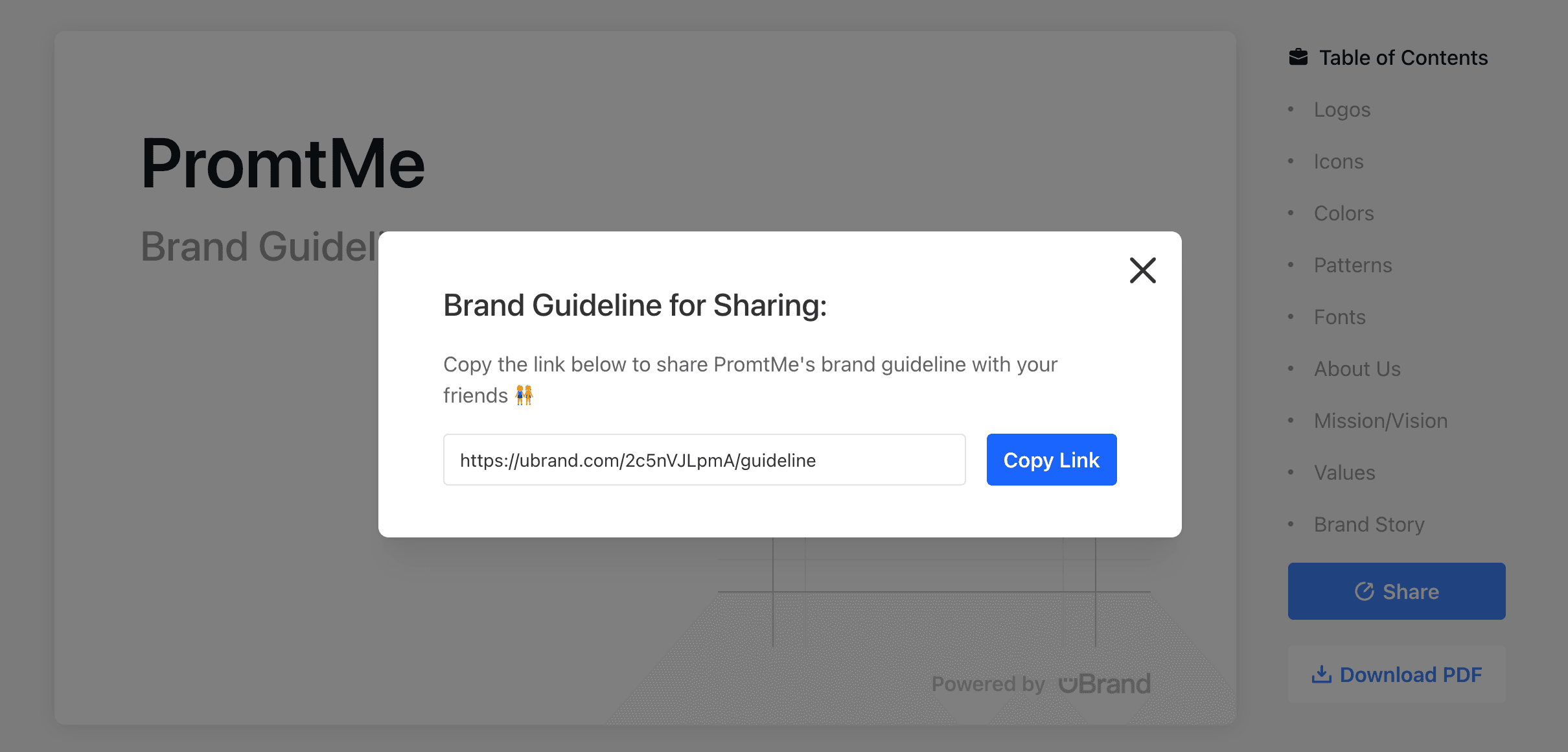 With platforms like uBrand at your disposal, the process of brand-building becomes not only simplified but also empowered. As you embark on or continue your branding journey, remember that consistency is key, and a well-defined brand guideline is your roadmap to achieving a lasting, impactful presence in your market. Harness the tools and insights shared, and let your brand shine consistently across all touchpoints.